In order to ensure that GGGolf's customers receive the best possible golf software, it's crucial to seek integrations with solutions designed to optimize efficiency and ultimately, boost courses' bottom lines. That's why GGGolf has partnered with Tagmarshal, a business to business golf technology solution that increases field efficiencies. It also turns pace-of-play into an asset for a better golf experience.
GGGolf is Tagmarshal's official supplier in Canada, ensuring that all courses using GGGolf, whether private, semi-private or public, can optimize their course performance and boost their revenue.
How It Works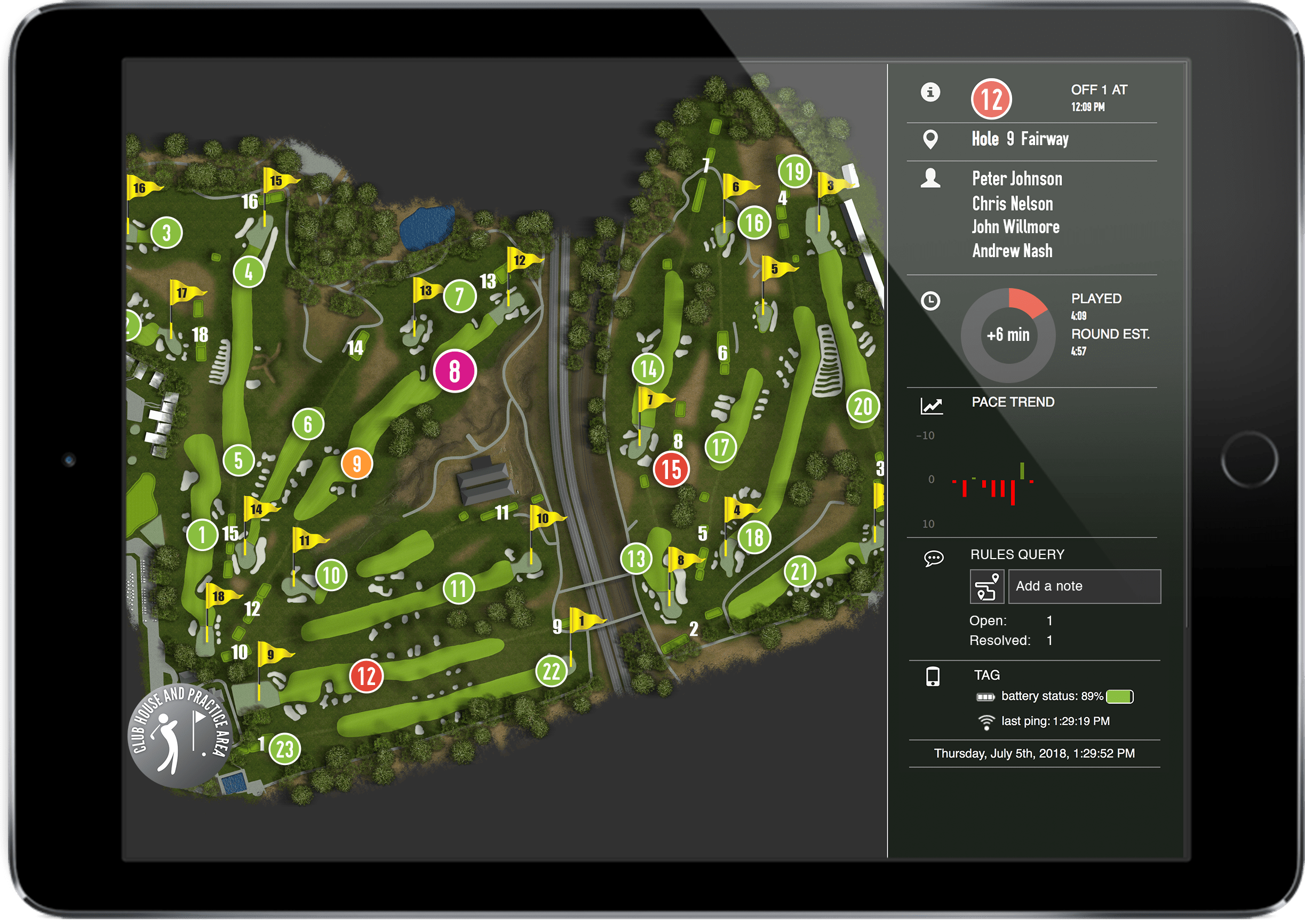 Tagmarshal's tracking system can be clipped onto golf bags, as well as on golf carts. Data from golfers' tee sheets then gets submitted to Tagmarshal's cloud servers, which is accessible to course management. GGGolf's tee sheets are synchronized into Tagmarshal's tracking system to ensure courses can better manage round times.
The system helps reduce average round times, enhances player experience, optimizes efficiencies and reduces costs. By reducing round times, courses can get more players on the course on any given day, which of course, will maximize revenue.
Public Courses & Resorts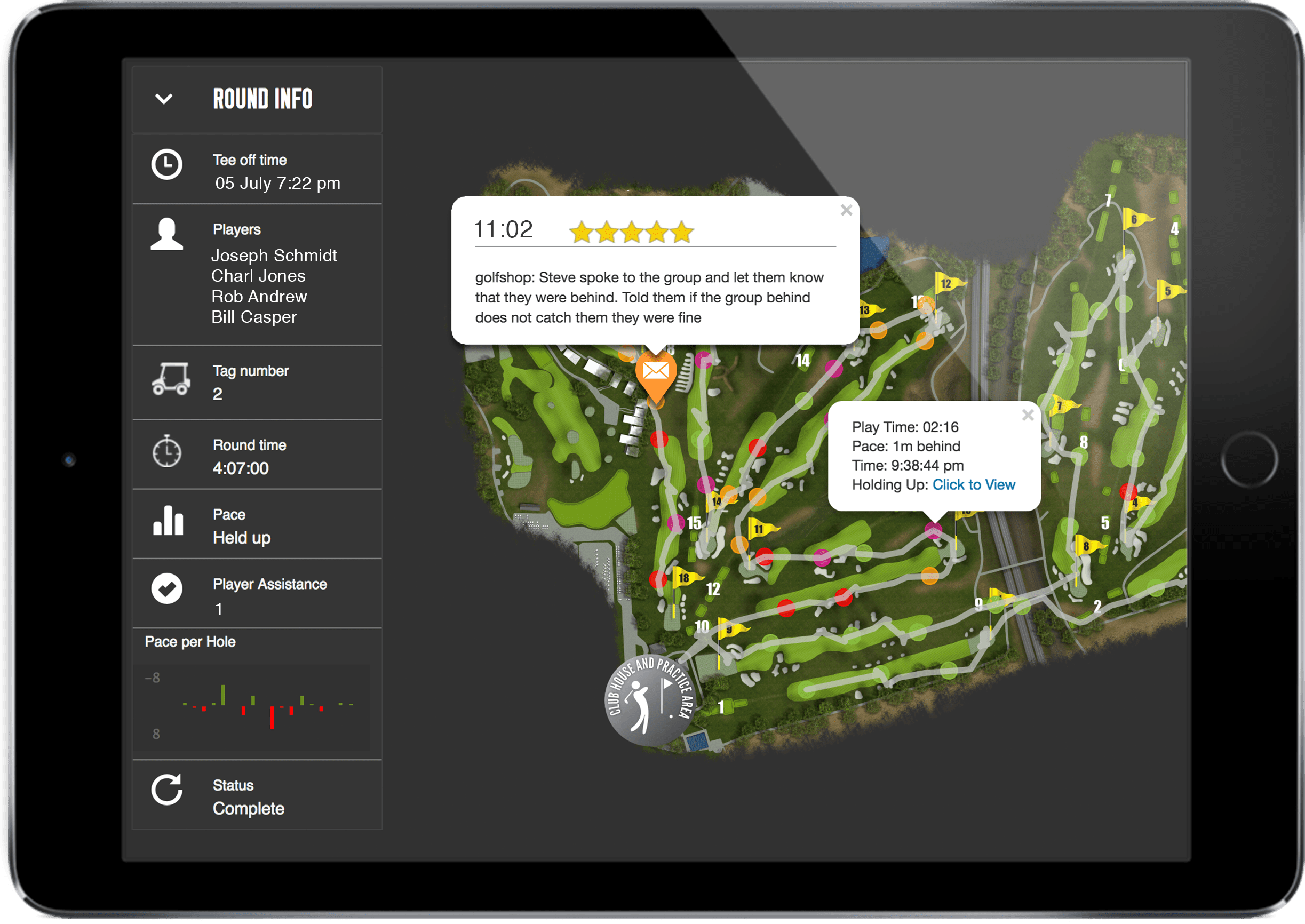 Public courses will often have less frequent golfers who don't have the same sense of best pace-of-play practices that avid golfers do. That's why their Public Course solution emphasizes pace of play and field flow. Even occasional golfers prefer a quicker round of play, and are far more likely to return to a course if the flow of the game is smooth. Tagmarshal's solution helps courses control the pace of play on the course and using data and facts, courses can make better decisions on how to plan for days loaded with tee times.
According to a USGA survey, 74% of golfers say pace of play and flow is critical to enjoying their round, second only to course conditions, which was important to 82% of golfers polled. Thus, you can see just how critical maintaining a good flow and pace is to getting golfers to return to a course.
Private Courses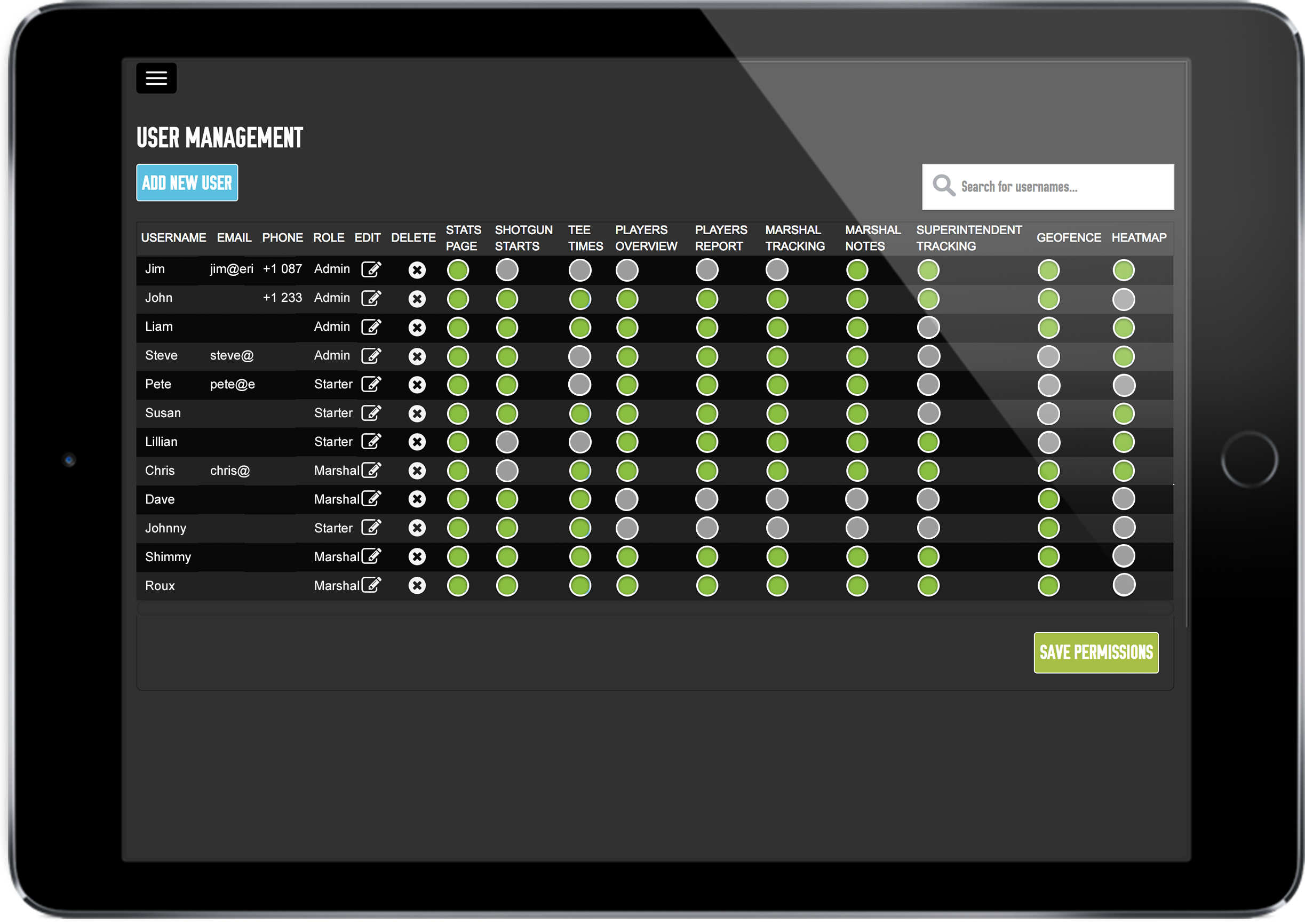 While pace of play is crucial to public courses getting return golfers, that doesn't mean loyal members of private courses don't value it too. If golfers are committing to a private course for the season, they'll be expecting a superior player experience. Tagmarshal's Private Course solution specializes in meeting the needs of skilled, experienced golfers. This solution provides a similar goal in bringing round times down, while providing accurate data for player accountability. At the same time, the system is unobtrusive in its pace management and respects golfer traditions. As for the course's benefits, the solution can promote a consistently lower average round time, which is sure to catch the eye of prospective members.
Tournament Track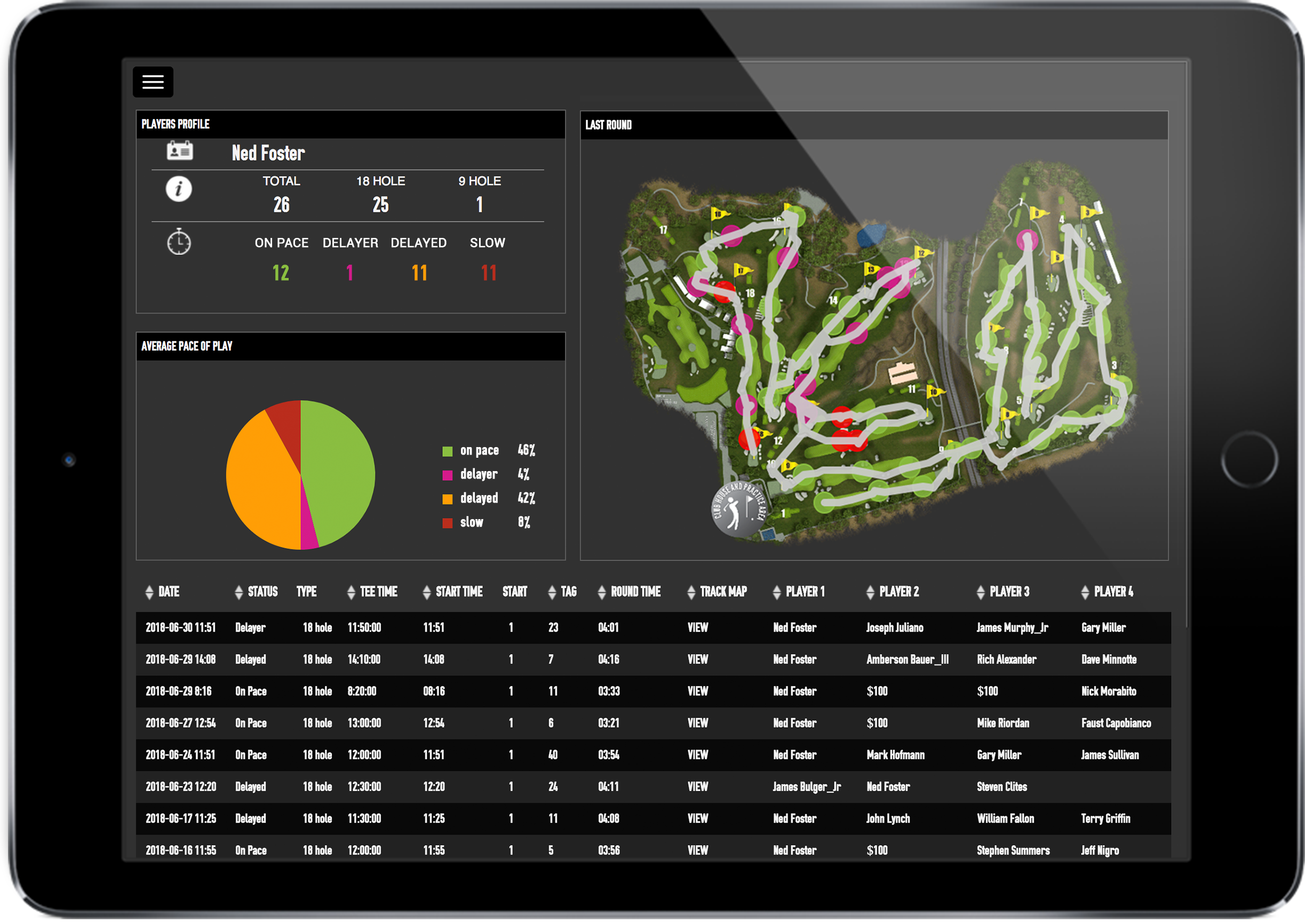 As any tournament operator will know, there are a lot of things to track in organizing a successful tournament. With Tagmarshal's Tournament Track, organizers can now enjoy insights into pace management, player and tournament performances and real-time tracking of results. These all play a factor into players enjoying themselves and for organizers to gather and analyze data.
With this solution, organizers can optimize tournament efficiency, and use in-depth analytics to improve field management. The system was built with input from real golf professionals, making it one of the most advanced golf intelligence platforms available today.
The system allows courses to save staffing costs or volunteer requirements, which simplifies the organization of a tournament. The Gap Time Management feature plays a crucial role, as operators are given real-time insight into field pace management and gap time management between groups.
The reports and analytics available will give operators information to streamline pacing. Operators will also be able to oversee a player's pace management.
Golf Cart GPS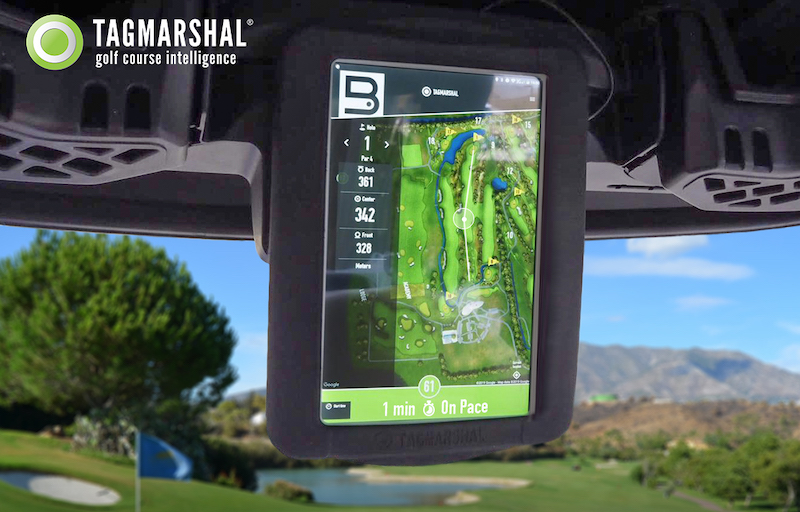 Many course managers value golf cart GPS tracking and Tagmarshal's GPS tracker empowers staff, management and players with objective data to better manage on-course operations. Most clubs simply go with basic GPS trackers, but Tagmarshal's solution will truly help courses see the difference in just how efficiently a course can be run, no matter how busy it is.
Conclusion
GGGolf's golf management software is ultimately meant to simplify golf courses' operations and improve bottom lines. With this integration to Tagmarshal, golf courses of all levels can ensure that pace-of-play is always respected and thus, provide a better service to its golfers throughout the golf season.
---------------
For over 18 years, GGGolf has been the go-to software for golf clubs across the country, offering a wide range of options to respond to the different business needs of golf clubs. GGGolf is dedicated to constantly updating its software for all of its customers while making sure the golf clubs are well taken care of.
When it comes to booking a tee time for your golfing needs, GGGolf has the perfect platform in the Minutegolf portal -- your reference for golf bookings, tee times, discounts and golf packages!
Find a Tee Time online today, or download the Minutegolf app on iOS or Google Play. If you are in need of anything for your golf club, please reach out to GGGolf at 450-641-4241 or send a quick email to This email address is being protected from spambots. You need JavaScript enabled to view it..