GGGolf is the reference for your golf management needs
When most people think of golf, they think of it as a sport or a hobby. However, unlike most pastimes, golf encompasses so much more. Playing a round of golf is truly an experience, and with so much investment required, both from a mental and financial standpoint, it's of paramount importance that those providing the venue for this experience deliver in all components. There's so much more to a golf course than visitors or members coming by to beat their personal scoring record or sink some putts. From the moment they arrive, visitors expect to be well accommodated and to deal with a friendly, well-trained staff.
When you're running a golf course, you're not just in the golf business; you're in the hospitality business. Running a golf course is full of complex operations and departments. You have your course to maintain, tee times to book, pro shops to ensure players are well equipped for their round, professional instructors to encourage players to play more, thus bringing you more revenue and a clubhouse with a restaurant and/or bar to let guests cap their golf day with a good meal and a refreshing drink. You may even be a wedding venue!
With all these departments to manage, you begin to see why the proper golf management software is critical, particularly in an age all about technology and efficiency. The Minutegolf portal is just one component of GGGolf's software, the golf management system trusted by golf courses all over Quebec and eastern Ontario. There's much more to GGGolf, though. With GGGolf, your course gets a software product that manages membership, reservation ballots, tournaments, handicap, point of sale, restrictions and much more, truly making it a 'whole in one' software system.
Why Choose GGGolf?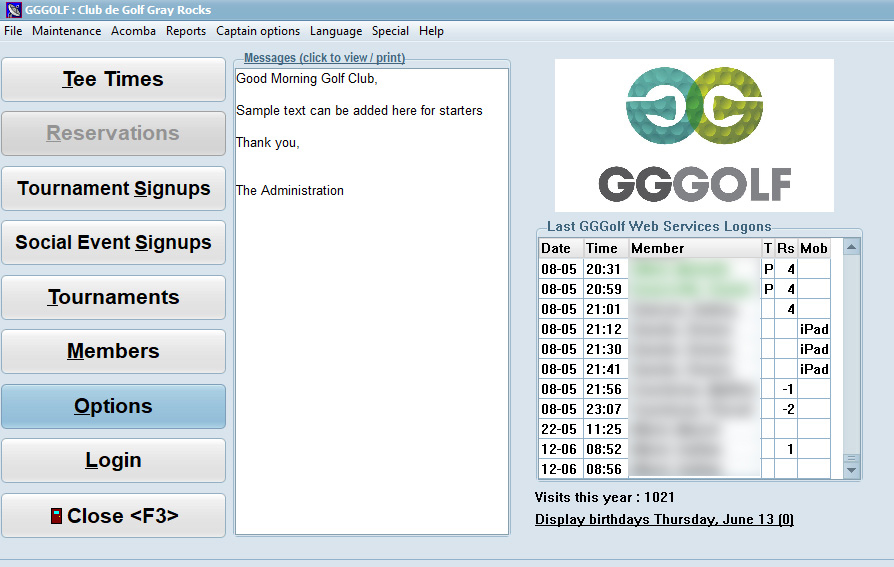 GGGolf offers a modular system that suits your club's particular needs. Whether you are looking for a management solution designed specifically for golf operations or need an updated, responsive website, GGGolf makes things simpler for you to run your club. We'd love to take you through everything that GGGolf is capable of, but let's break it down simply and give you an idea of the many components of GGGolf software.
Member Web Services:
Club members have access to a personalized calendar and can easily track tee times and scores online.
Tee Times:
Complete tee time management, customizable for your club's needs, with unlimited restrictions for you to implement.
Lottery System:
Powerful lottery system calculates weighting and percentage of times that members don't obtain their tee times. Handles groups of foursomes. Great for small leagues!
Handicap Management:
Advanced golf handicap software integrated with the Golf Canada Score Centre. Members can track game stats and percentage scores posted. Automatically send email reminder for members to post their scores.
Tournament and Event Management:
Easily manage member and external tournaments as well as non-golf events. Print score cards and cart signs directly from the tee sheet.
Dining Room Reservations:
Manage your rooms and seating plans, while members can book online.
Websites:
GGGolf develops modern, user-friendly, responsive websites for golf clubs..
Interfaces
Integrated with TagMarshal, Golf Genius and other softwares.
How is so much offered with GGGolf? Well, that's because we realize the unique business needs that golf courses have. GGGolf's software is used all across Canada in private, semi-private and public courses, as well as resorts. We've grown by listening to our customers and their needs. By working with our customers, we are able to continuously improve our golf software and integrate custom requests. New features and modules are added regularly by our talented team of software developers, using your input.
Our round-the-clock bilingual customer support is always there to ensure your software is running smoothly and there to address any questions or concerns you may have. If you feel your golf club has some needs that need to be addressed or would like a demo, feel free to contact us at This email address is being protected from spambots. You need JavaScript enabled to view it. and we'll be happy to walk you through our software modules. We assure you that your golf course's needs will be met!
---------------
For over 18 years, GGGolf has been the go-to software for golf clubs across the country, offering a wide range of options to respond to the different business needs of golf clubs. GGGolf is dedicated to constantly updating its software for all of its customers while making sure the golf clubs are well taken care of.
When it comes to booking a tee time for your golfing needs, GGGolf has the perfect platform in the Minutegolf portal -- your reference for golf bookings, tee times, discounts and golf packages!
Find a Tee Time online today, or download the Minutegolf app on iOS or Google Play. If you are in need of anything for your golf club, please reach out to GGGolf at 450-641-4241 or send a quick email to This email address is being protected from spambots. You need JavaScript enabled to view it..