Enjoy a round at Cardinal and join the course in celebrating its 65th anniversary
There's no doubt that 2020 has been a challenging year for everyone. However one thing that we haven't lost is our passion for golf. In fact, our desire to golf is higher than ever as we search for escapes from everyday life. Fortunately, Club de Golf Le Cardinal is still here after 65 years to deliver just what passionate golfers are looking for: a course with its unique challenges and exceptional playing conditions.
Let's take a look at what golfers can expect when choosing to play at Le Cardinal.
Highest of Safety Measures Followed
While the 2020 season is unique amid the COVID-19 pandemic, Cardinal has taken all the necessary health measures to ensure the safety of golfers and staff.



About Le Cardinal
Cardinal Golf Club is known as Laval's best kept secret. It's one of the most mature golf courses in Quebec and its enchanting setting between Montreal and the North Shore makes it very accessible, whether you're showing up from the city or the suburbs.
The course consists of poa annua grass, which presents an interesting challenge on the putting greens. The par-71 course totals 6,296 yards and is sure to keep golfers engaged throughout the round.
Practice Grounds
If you're stopping by Le Cardinal, be sure to take advantage of their 30-tee driving range to get some good practice in before hitting the links. Their practice range is open daily from 9:00 AM to 7:00 PM so you can get some extra practice in whenever you're up for it.
Golf lessons
Le Cardinal does everything to ensure golfers can improve their game, thanks to Michel Boyer, their PGA Canada professional on the grounds. Boyer offers courses for golfers of all levels, whether it's a hobby you've recently picked up, or you want to take your game to greater heights.
Rich History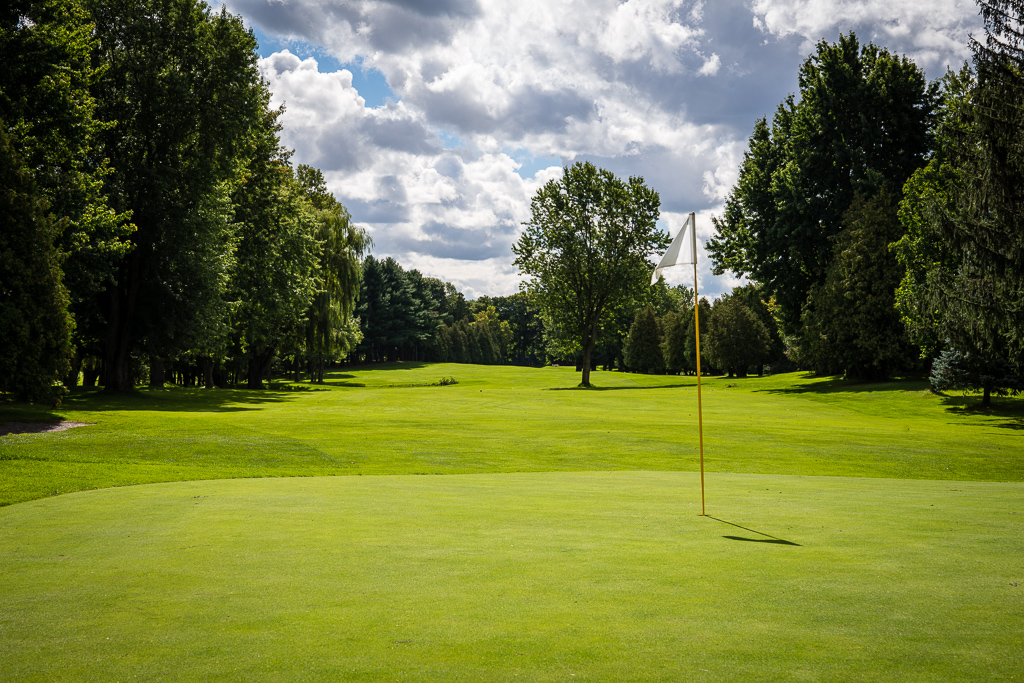 The club was founded in 1955 by Maurice Cardinal, who was also the course's architect, along with Léopold Benoit. After starting as a nine-hole course, nine more holes were added in 1958. Ten years later, Mr. Cardinal became the course's sole owner and renamed the course in his name, after operating as Club de Golf Ste-Dorothée.
The club has been family run from the beginning, as Mr. Cardinal passed the course onto his kids. His son, Guy Cardinal is now the course's owner, and it remains a family run business, with his sons Marc-André and Philippe now the course's Club Manager and Superintendent respectively. His daughter Sarah also helps run the clubhouse.
Easy Commute, Easy Reservation
Le Cardinal's semi-private course is very accessible and easy to get to, just 15 minutes north of Montreal, just west of the 440 highway in Laval. While the course has a loyal membership base, visitors are always welcome to play a round and booking a tee time is simple with minutegolf. Just search in the Montreal - Laval region, select Cardinal and add your preferred date and time.
Excellent Value
While Cardinal offers a lot in excellent playing conditions, a friendly staff and a variety of well maintained facilities, tee times start as low as $34.79. Golf cart rentals can be added on for an additional $19.14 per person. The best part is, your tee time price can be even lower if you regularly check Minutegolf's 'Deals' section, as Minutegolf offers several discounted prices throughout the week.
Book Your Tee Time Today

There's so much to discover at Golf Cardinal, from its mature course to its charming clubhouse that was rebuilt in 2014. The family-run course keeps a sense of closeness among club members and makes visitors feel welcome. Discover Golf Cardinal today by booking your tee time with Minutegolf.
--------------
For over 19 years, GGGolf has been the go-to software for golf clubs around the country, offering a wide range of options to respond to the different business needs of golf clubs. GGGolf is dedicated to constantly updating its software for all of its customers while making sure the golf clubs are well taken care of.
When it comes to booking a tee time for your golfing needs, GGGolf has the perfect platform in the MinuteGolf portal -- your reference for golf bookings, tee times, discounts and golf packages!
Find a Tee Time online today, or download the MinuteGolf app on iOS or Google Play. If you are in need of anything for your golf club, please reach out to GGGolf at 450-641-4241 or send a quick email to This email address is being protected from spambots. You need JavaScript enabled to view it.