Canton offers excellent playing conditions, a friendly staff and a relaxing atmosphere in Warwick
While the 2020 golf season got off to a later start than usual, well-run courses like Club de Golf Canton were able to reopen without missing a beat. That's what comes with Canton's 40 years of experience in running a club built on a reputation of high quality conditions, a hospitable environment and of course, its great location.
Canton is a semi-private course that hits the right balance of making its members feel special, while making visitors feel welcome with every visit.
Whether you attend Canton as a member, playing as a guest, organizing a business meeting or simply to enjoy a meal in the clubhouse, the friendly staff makes everyone feel welcome.
Let's take a look at what Canton has to offer.
Breathtaking course with unique challenges
It all starts with the stunning view you get of Mont Gleason when playing on Canton's course. The par-71 course has a slightly hilly landscape and narrow river winding through the course. This presents a challenge for golfers of all levels, as they try to navigate their shots through the elements of nature.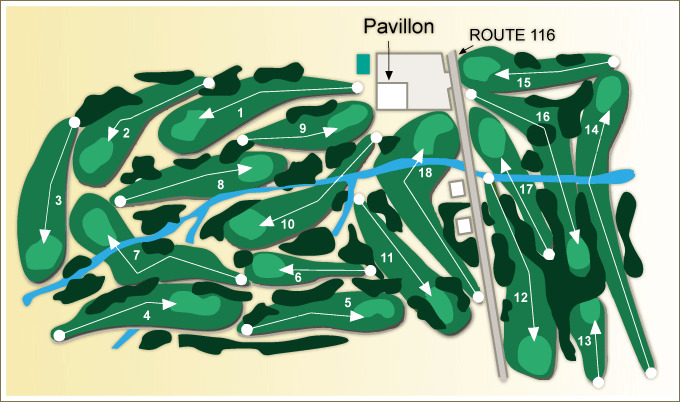 Run by general manager Luc Fillion, Canton features all the hallmarks of Quebec Golf.
Even though the course is semi-private and run with high standards, it's still a very affordable course to play. Tee times for a full 18-hole game start for as little as $30 with taxes included and you can find discounts widely available on minutegolf throughout the week. Canton also offers lower prices if you choose to play after 1 PM and an even greater discount if you tee off after 4 PM.
Environmentally friendly
Canton has made a commitment to helping preserve its pristine environment by limiting its use of herbicides, pesticides and insecticides. Their product use plan is overseen by an agronomist, and they maintain a register of which products they use. However, Canton doesn't just comply with law to meet standards; they set their own heightened standards. They choose to do more than the bare minimum in meeting standards expected of golf clubs. Their rigorous monitoring ensures that regulations are respected and the course's landscape is preserved.
One area of note is their commitment to water preservation. Due to its ideal location, a stream crosses or runs adjacent to eight holes on the course. Canton is adamant in ensuring they begin cutting their grass at least three metres from the stream. They also ask golfers to play their ball before that area to preserve the course's wildlife habitat.
The course also installed a water treatment system in 2011 to preserve the stream that runs along its course. On top of that their signage is made from recycled materials and they commit to planting a dozen trees each year.
All of this goes hand in hand with Canton's belief that respecting the environment goes hand in hand with both golfer experience and maintaining the beauty of its course.
Proud 40+ year tradition
Canton's beginnings go back to 1975 when the club was first founded and construction of the 18-hole course was a process that took several years. The club officially celebrated its opening in September 1977 with the Warwick Open tournament. A whopping 420 players took part in the tournament on the brand new 12-hole course (the remaining six holes were completed afterwards). Finally, the clubhouse was ready for members in time for the 1978 golf season.
Since then, it's been all about Canton running its course and clubhouse with passion and grace.
Explore Canton for yourself
Besides its golf course, Canton has plenty more to offer, including a reception hall with a 200-person capacity, a fully stocked boutique and of course, its inviting on-site restaurant. One quick tee time booking with Minutegolf and you'll see just what Canton can offer.
--------------
For over 19 years, GGGolf has been the go-to software for golf clubs around the country, offering a wide range of options to respond to the different business needs of golf clubs. GGGolf is dedicated to constantly updating its software for all of its customers while making sure the golf clubs are well taken care of.
When it comes to booking a tee time for your golfing needs, GGGolf has the perfect platform in the MinuteGolf portal -- your reference for golf bookings, tee times, discounts and golf packages!
Find a Tee Time online today, or download the MinuteGolf app on iOS or Google Play. If you are in need of anything for your golf club, please reach out to GGGolf at 450-641-4241 or send a quick email to This email address is being protected from spambots. You need JavaScript enabled to view it.